This week our team, supporters and community gathered together in Huckletree to celebrate and showcase the work of our five 2021-2022 Impact Awardees, each of whom have an innovative solution and deep determination to create positive change for people and planet:  
ByoWave – Brandon Blacoe and Eibhlin O'Riordan

 

Mother Tongues – Dr Francesca La Morgia

 

Peer Educational Technologies – Graham Brocklebank

 

Positive Carbon – Aisling Kirwan and Mark Kirwan

 

Shapes of Grief – Liz Gleeson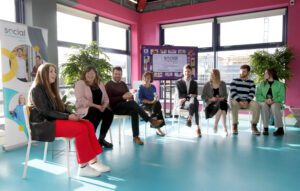 The SEI Impact Programme is an accelerator programme that identifies high-potential social entrepreneurs and supports them through significant funding and mentoring, as well as providing access to a network of support. Over the past nine months our Awardees have worked closely with our Programme Manager, Sophie to develop their solutions into highly impactful, effective, scalable, and sustainable organisations. Over 100 hours has gone into 1-1 and group supports with all Awardees receiving training in the areas of  fundraising, governance, leadership, and storytelling, in addition to each receiving €20,000 in direct funding. 
A bit more about our Impact Awardees, what they have achieved and their plans for the future: 
ByoWave

makes modular, accessible, and customisable video game controllers for people with disabilities, enabling everyone to build their own way to play. ByoWave's prototype Proteus controller, which uses universal design, has been tested by over 50 people with different disabilities, who have successfully created controllers based on their own needs and way of playing. Brandon and Eibhlin aim to have over 2,000 units ready for distribution by December 2023 with plans to scale internationally in the future.   

 

Mother Tongues

aspiration is to raise awareness and provide training in the area of bilingualism, through delivering training and informative resources. In 2022 alone, Mother Tongues has reached over 2,000 children and their families through its diverse programme of events.  Francesca has many more exciting collaborations and initiatives in the works. 

 

Peer Educational Technologies

is a cloud-based assistive technology solution for people with dyslexia that addresses accessibility as well as reading and spelling needs.  To date, Peer has carried out pilots with universities in both London and Dublin, supporting over 100 students through its  online platform with further plans for growth. Graham is also looking to develop long-term learning solutions to support people with dyslexia in the workplace. 

 

Positive Carbon

works with the hospitality and food service industry to reduce their impact on the environment through using its fully automated food waste monitoring technology.  Over the last 12 months, Positive Carbon has commenced work with some of the largest hotels, universities, food service providers and multinationals in Ireland, preventing hundreds of kilos of food from reaching the bin, and helping customers increase their kitchen profits by 2 per cent due to this reduced wastage. By the end of the year, Mark and Aisling plan to have Positive Carbon operating in 100 locations across the country, and to have removed 250,000 kilos of Co2 from the atmosphere. 

 

Shapes of Grief

–

Liz Gleeson:

Shapes of Grief provides comprehensive grief education and resources to individuals, mental health professionals and healthcare workers, and there are currently over 300 grief-trained professionals as a result of the programme. The programme's accompanying podcast has been listened to over 150,000. Liz plans to significantly grow the numbers of people accessing this training programme in Ireland and abroad. 



We are hugely inspired by what the Impact Awardees are doing to improve people's lives across Ireland, and were delighted to be able to celebrate with them at in first in-person event in over 26 (!) months. The future is in safe hands with more organisations like these being the change they seek. We look forward to seeing what they achieve next!