Overview
Problem
The arts are particularly powerful and transformative when experienced as a child. Although arts education is recognised at a national policy as being "fundamental to an education that aspires to nurture and support the development of the whole person" many children in Ireland face barriers in experiencing music, dance, drama and visual art. In schools, these subjects have traditionally been seen as less important or less useful than core subjects of maths, science and languages.
On top of this is that primary school teachers often do not feel comfortable or confident in delivering music and arts education. As they are often under pressure to deliver all other subjects, this lack of confidence means the arts can slip down the priority list.
Children who do not have the means or the family support to take part in the arts outside school face further obstacles. Children from disadvantaged areas, children with additional learning needs and children for minority backgrounds all face problems in accessing the arts and arts education.
​
Solution​
dabbledoo is an independent Irish company dedicated to providing primary schools with the resources, training and support to deliver high-quality and accessible arts and music education. They are a team of educators, artists, musicians and designers with a passion for arts education and its potential to enrich the lives of children. Shane and the team have built an an accessible online platform providing all children in Ireland with quality arts education each week, which fits right in with the national curriculum.
​
Impact
In January 2023, dabbledoo had more than 7,200 active teachers on the platform, reaching upwards of 1,200 schools and 182,000 children. Dabbledoo have step by step weekly lessons which fit perfectly into the primary school arts curriculum and plan content to make it easier than ever for teachers with no arts or music backgrounds to teach those subjects in a fun and effective manner. Shane wants to make sure that arts education is a priority for every child in Ireland and not just a privilege for the few.
SEI Journey 
Shane and co-founder Killian first took part in the SEI Elevator Round Two award in 2016. SEI helped dabbledoo get into our first 50 schools with our music programme nearly six years ago. in 2023, dabbledoo were announced as winners of the Changing Ireland Accelerator. Shane hopes SEI will help develop their drama and visual arts programmes to over 1,200 primary schools all over Ireland.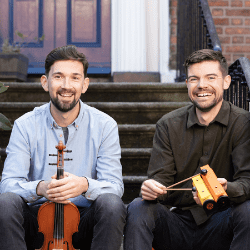 Shane McKenna and Killian Redmond are the co-founders of dabbledoo
SECTOR
Education
Children and Young People